I'm a pretty persistent guy. How many people would spend seven years writing a book and then give away all the proceeds? I thought I was a pretty competitive guy, too. All my life I have trained hard, worked hard, coached hard, raced hard. But I have learned that Olympians are a breed apart. Olympic Silver Medalist U.S. single sculler Joan Lind taught me that nearly forty years ago.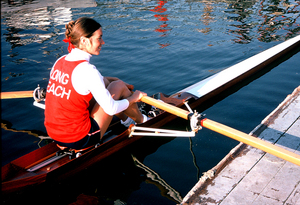 In 1973, the day before I left Philadelphia to seek my fortune in California, I ran into Joan in front of Boathouse Row.  She was there for the National Championships.  We had rowed in many of the same regattas in Europe the previous summer.
"What are you doing here?" she asked me.  "I live here," I replied.
A day later I pointed my car westward.  I had no idea exactly where I would go.  California's a big state.  I was promised a coaching job at UCLA, but when that fell through while I was already on the road, the UCLA coach urged me to go look up Ed Graham, the college coach in Long Beach, so that' s where I eventually headed.  I was hired on the spot and invited to stay in Ed's house while I settled in.
The next morning I ran into Joan Lind in front of the boathouse.  I'd completely forgotten she was from Long Beach.
"What are you doing here?" she asked me.  "I live here," I replied.
Joan was wonderful.  Beautiful.  Always smiling.  And she actually rowed! How cool is that? (It was a long time ago, and serious woman rowers were still a novelty.)
Pretty soon I had joined the group of local scullers who were training three times a day for the upcoming European Championships in Moscow.  The favorite morning workout was 6 x 500m.  Back then I was pretty fast in a single, at least over short distances  – I had medaled in the ¼-mile dash in 1971 – but I was not in top shape that summer.  John Van Blom, 1969 European Doubles Champion, was in a class by himself that first morning, but all I cared about was impressing Joan by beating her.
And I did, too . . . by open water in the first 500.  I beat her again in the second one, but she was closer.  The third was even, and by the sixth all that remained beside me was her disappearing wake.  When I drifted up to her, there was a quiet smile on Joan's face, as if proper world order had been restored.
I remember a few weeks later going on what I expected to be a pleasant bike ride with Joan.  Between the two of us, she was the rowing star, only three years from her first of two Olympic medals, but I was racing and winning on my bicycle in those days.  I considered this a friendly ride on my turf.  We chatted amiably side-by-side as we cycled west out of Long Beach toward the beautiful hills of Palos Verdes.  The second the road turned up, Joan attacked.  All morning long, every hill would see an attack from Joan followed by a response from me.  I'd turn myself inside out, and we'd crest the hills together . . . and there was Joan's smile again.
During my years of research for my new book, I have renewed many friendships and made a lot more with some of the greats of our sport.  Each one has added a thread to a great tapestry, a speck of glass to a grand mosaic.
Each Olympian is unique, but they seem to fall into a number of categories.  First there are those like Joan Lind, her teammate (now husband) John Van Blom, Matthew Pinsent, Kathleen Heddle, Joe Burk, Jim Dietz, Al Morrow, Allen Rosenberg, Al Shealy, Paul Thompson.  The list goes on.  An immediate smile, personable, open, approachable, completely unassuming off the water.
Then there are those like Harry Parker, Steve Redgrave, Carie Graves, Dick Tonks, Mike Spracklen, Tom McKibbon,Hartmut Buschbacher.  Again, the list is endless.  More distant at first.  Only once you have gained a certain level of trust do they reveal their other side, which is again immensely warm and approachable.  After all, we're family.
Over the years there have been many linked pairs of names that draw from both lists: Redgrave and Pinsent, Van Blom and McKibbon, Morrow and Spracklen, Rosenberg and Parker, Cromwell and Storm, Jones and Staines . . .
There are even some who belong on both lists.  Like a chameleon, 1960 Olympic Gold Medalist Ted Nash can be the most charming and personable guy on Earth, the ultimate recruiter of young men and women.  But when it suits the situation he can also take on the aura of the ultimate Olympic Gold Medalist, an inspiration to one and all.  Brad Lewis from the 1984 Olympic Champion Double is all Californian, but he is at once Troy Donohue and James Dean.
Underneath virtually every great rower or coach I've ever met is a genuinely nice person, but there is always . . . always the competitiveness of a tiger lurking in the background.  It's like every single one is saying to me, "Yes, Peter, you're a good friend.  It's so nice to chat with you about the sport that means so much to us both . . . and so we will both ignore the fact that if we were ever line up side by side in anything, I would crack you like a walnut."
That tiger is always there.  God bless them!  They are a breed apart.